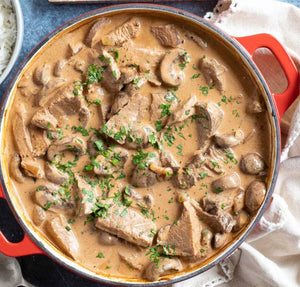 A classic beef stroganoff with veggies in a delicious creamy mushroom sauce.
Our Beef Stroganoff is extraordinarily flavorful! With delectable aussie vegetables and 100 percent Aussie beef, this is your new favorite dish. Delicious when served alone or paired with our low-carb pasta.
Designed for Type 1 and type 2 diabetes, gestational diabetes, pre-diabetes, and weight loss diets
No artificial flavours or colours. Gluten-Free.
Carbohydrate 17.5gm/Sugars 3.3gm/357 calories
350gm serving
Our delicious meals are pressure-cooked to seal in maximum nutrition, flavour and aroma. Simply reheat in the microwave.
Store in the pantry. Once opened, consume or refrigerate for up to 3 days. Do not freeze. 
Found food to be convenient and enjoyable!!!
Got the taste for it.
Just can't wait for it to have more chunkier pieces of meat.
Just a little too spicy for me - but I'm a spice wimp!!
Very tasty and filling, a stick to your ribs kind of meal. But, while I was able to finish it all, it was a little too spicy for me to enjoy it fully!
Beef Stroganoff with Mushrooms
Deliciously perfect on a cold winter's day.